Here I am, seated at the geographic nexus of the digital revolution, surrounded by corporate headquarters of the most impactful industry disrupters of our time. Actively trying to effect similar change in my industry who has fallen so far behind its peers. However, I am greeted with the bleak yet familiar stats heard at conferences passed with a little more justification and reflection sprinkled in. Things like:
- "Only 10-12% of consumers are engaged in their care"
- "Hospitals reporting 0 (yes, zero) medical record requests from their patients"
- "An appendectomy can cost $3k for one patient and $100k for another, depending on your location"
- "Limited adoption of Telehealth is preventing low cost Home Health services"
- "FHIR is still an early standard, we can't expect everyone to use it"
echo from the presenters' talking points and slide decks.
After a momentary cringe, I remind myself "We still have a pile of work to do."
This is the 11th year of the Health 2.0 conference and seemingly an important one since the announcement of their merger with HIMSS, yet this was my first attendance and visit to Sillicon Valley despite my 17 years in computer sciences and love for the HBO series.
Aforementioned cringe moment aside, I greatly enjoyed the conference and found myself surrounded by smart, talented visionaries with varied backgrounds and unique approaches to remedy the many problems that remain unsolved by technology. But with so many big brains in the room and VC funds a segway's ride away, why does receiving medical services feel the same as it did a decade ago? (aside from a computer now joining my Doc in the exam room)
I'm happy to report that some time was spent at the event examining recent goals, reflecting on why they failed and how we need to rethink what healthcare can look like in days to come.
Take this slide for example - presented by David Brailer, Former ONC Director: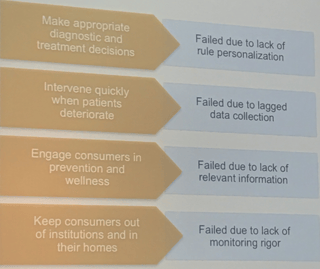 This presents a decent example of areas where visions were set, resources allocated and energy spent to make improvements but were met with hurdles unseen or incentives misaligned creating a domino effect that sputtered out success.
Another example - given by John Cosgriff, United Healthcare: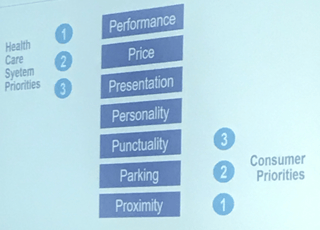 This is a valuable reminder that the priorities of the consumer, haven't necessarily been the same as the Health System in the "new business of healthcare". I think this is largely because performance & price aren't transparent to the consumer, if they were, I think this slide would be much different. (just my 2¢, not his)
A different type of challenge - given by Sandra Hernandez, California Health Care Foundation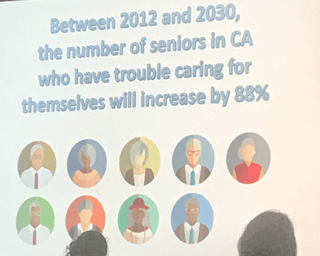 Bringing to light another angle, one that suggests not all healthcare consumers are apt to adopt a changing market place.
Getting reminded of these challenges brought me to a personal conclusion that I believe is starting to resonate with others not only at this conference, but within the larger health tech community.
NEW PROBLEMS NECESSITATE NEW SOLUTIONS -
THE FUTURE OF HEALTHCARE TRANSFORMATION NEEDS TO HAPPEN OUTSIDE THE EHR.
As the event continued, I learned the presenters shared a similar view to my own regarding lessons learned and evolving ways technology can cure the ailments to healthcare delivery. If transformative success was stalled because of clinical data's poor quality and fragmented availability, let's refocus where we need to innovate.
1. Health records are now digital, but data is lagged → Let's make it realtime!
2. Record keeping is episodic → Let's make it continuous!
3. Health records live in the office → Let's make them ubiquitous!
4. Health data is at the mercy of manual data entry → Let's collect physiological data!
As ambitious as this may seem, from a technology perspective, there is little in the way of these goals coming to fruition. Outside of healthcare, the marriage of data science and computer science has made tremedous strides in solving the realtime, continuous and ubiquitous challenges with data.
So for myself and Healthjump, we're laser focused on bringing those solutions to our industry. While we are doing our part, I look forward to seeing our peers continue to innovate in creating valuable ways to collect and understand the physiological data that has so much potential to improve our health and patient care.
As I bring this recap to a close, I'd like to leave you with one final slide by David Brailer. I think it offers a good summary of the potential outcomes if we succeed in refocusing our collective efforts to the four objectives listed above:

As Healthjump's CTO, conferences like this are a great energy source to recharge and reaffirm the mission of our company and the vision of our platform. Healthjump will continue to be the critical bridge between silo'd health data and innovators, like those in attendance @ health 2.0.