As the sun sets on 2015, the health IT industry has learned some important lessons this year. For the purposes of this post, I will cover the three that hit closest to home for me: Interoperability, population health management and patient engagement. Undoubtedly, these three topics represent some of the greatest challenges facing the industry, but there is no denying that progress has been made in developing solutions for the road ahead.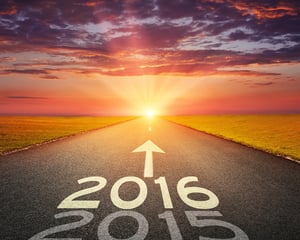 Source: http://www.jeffbullas.com/
Interoperability
Although HIMSS gave us a definition for this term in 2013, and plans for interoperable systems were effectively written into the Meaningful Use (MU) program prior to that definition, 2015 seemed to be the year when industry stakeholders made it a priority. Knowing that a majority of private practices were still trying to figure out how to use their EHR systems in 2013, it really should come as no shock that their vendors have not made the flow of data from one system to another a top priority until now.
Additionally, MU Stage 2 was rolled back in 2014, and in 2015, MU had its wings clipped with another round of rule changes. Yet, the foundations for interoperability remain this year with two key MU objectives; the sending of summaries of care and sending data to some form of registry. This isn't a complete open exchange of information, but as MU likes to do, it will allow end users in the medical field to dip their toes in the waters of of a new concept without too much risk.
Looking ahead to 2016 and beyond, the future is bright for the interoperability of medical data. Businesses, like Healthjump, are beginning to make serious headway in connecting to numerous data sources as the focus shifts away from EHRs as the vessels for interoperability to solutions that can universally sit on top of these systems to provide the needed access. The next big three letters in Health IT will be A-P-I.
Population Health Management
Another concept which has been around for years, but seemed to spring to the forefront of Health IT project road maps, the concept of population health management. As stated by Kindig in an article on the topic of defining population health, an alternative term is population medicine, which implies that this term is used in clinical settings to strategize and improve on clinical and financial outcomes.
Here, there are no issues of the chicken or the egg, interoperable data sharing needs to occur for analytics platforms to be able to query consolidated data sources so that population health can be managed towards better outcomes for a given community or patient group. So, it is evident why population health management has come to the forefront of conversations in 2015 along with interoperability.
The outlook for population health management in 2016 is bright as analytics platforms continue to be implemented at large hospital networks and large enterprise groups, and it will only be a matter of time before they become the norm when it comes to identifying clinical and financial disparities to make positive changes to improve health outcomes for a given group or community. I believe the key factor to the improvement of population health management is how quickly the interoperability of patient data progresses.
Patient Engagement
Of all of the big topics of 2015, patient engagement is the one that I had the opportunity to work on the most. Like the previous two topics covered in this post, we can find many definitions and previously low levels in the adoption of the systems that make patient engagement possible until MU requirements make it a priority prior to this year. Professional interests in patient engagement were triggered in 2014, but a last minute roll back of MU requirements stymied momentum as patient engagement solutions headed into 2015.
It should go without saying that all of these topics are connected by the common element of data, and it is crucial to the improvement of health outcomes to enable patients with the ability to report data through patient portals and/or personal health records. It is extremely important that all of these wearable devices, which have come to market in the past few years, to be able to communicate with the appropriate doctor's system so that the data can do the most good when it comes to monitoring numbers such as blood pressure or blood sugar.
The future of patient engagement is on par with interoperability and population health management. Patient portals and personal health records are showing great promise. Patients and healthcare providers are embracing the convenience of secure messaging over antiquated phone conversations. Added benefits utilized in patient engagement tools are becoming more integrated into wearable devices and mobile phones, keeping important data on a patient's health readily available in the event of an emergency.
Keep an eye on these three items in 2016, chances are they are going to make your life easier and, hopefully, your healthcare a better.