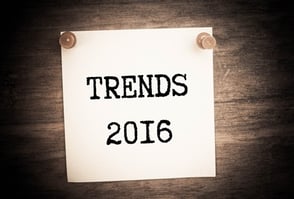 Prioritizing trends can help healthcare providers yield more ROI.
Given the accelerating pace of new technology and the shifting regulatory environment, healthcare providers would be forgiven for feeling overwhelmed. Indeed, trying to invest your time and energy on all fronts can lead to burnout and ineffective strategies. Instead, consider prioritizing investments so that you can maximize the potential ROI from health IT. To help cut through the clutter and noise, here are five top trends to focus on in 2016.
1. Patient data security
Cyberattacks and data breaches have risen sharply in recent years. While attacks on major retailers or government websites may have grabbed the largest headlines, it's medical data that has quickly become the biggest target. Healthcare is now the most common area for data breaches, according to a study the Identity Theft Resource Center. This type of data theft now accounts for more than 40 percent of all breaches, the study found.
Hackers are homing in on healthcare data, but consumers are also becoming more aware of the issue. Healthcare providers can expect to receive increased scrutiny from patients wanting to keep their data safe, whether that means questions about the security levels of their patient portal to why certain medical information is needed for administrative processing.
2. ICD-10 compliance
Physicians know too well that switching from the ICD-9 to ICD-10 is far more complicated than simply flipping a switch. Physician advocacy groups were instrumental in the initial delay to implement a deadline for compliance. They pointed out that a delay in EHR vendors and practice-management systems to deliver working solutions meant many provider offices didn't have adequate time to upgrade to the new systems, train staff on how to use the new codes and implement rigorous, lengthy testing. Those same concerns still haunt many providers, particularly smaller clinician offices that might not have the staff or resources to dedicate to ICD-10 training and testing. Yet compliance concerns are expected to plague even larger healthcare providers as well, as offices and hospitals of all sizes work to develop new guidelines and policies and to update existing paperwork to accommodate the new codes.
"Consumers have already embraced mobile for almost every aspect of their lives."
3. Anywhere, anytime care
Thanks to the ubiquity of smartphones and the plummeting price of Internet access, consumers have already embraced mobile for almost every aspect of their lives. Yet the healthcare industry is lagging, found analysts at PwC, with connected medical accessories, medical apps and smartphones all underutilized. Yet the report predicts that this will change in 2016, as the healthcare field goes increasingly mobile, spurred in part by consumer demand.
"Eighty percent of the time, the average American is in range of 4G LTE, making it nearly as easy to conduct a video visit with a doctor as it is to call a cab with a smartphone," the report notes.
4. Interoperability challenges
Even as most clinician offices and hospitals embrace EHRs, sharing that information between systems remains a struggle. That hamstrings the efforts of healthcare providers looking to put that data to the best use and improve patient care. It's also a hurdle for patients looking for a seamless user experience as they try to access and share their medical data between providers. Yet application programming interfaces (API) could radically transform the interoperability challenges that plague the current state of health IT. APIs allow various software applications, including EHRs, to easily and seamlessly communicate with one another. And as information sharing becomes easier, it will only become more commonplace. Patients who have been resistant to get aboard the health IT bandwagon will have one less reason to hesitate.
"80 percent of health data will be stored or passed through the cloud."
5. Everything in the cloud
An increasing number of healthcare providers are turning to cloud-based solutions to handle everything from data collection and aggregation to analytics and strategic decision-making. In fact, some health IT experts predict that by the year 2020, roughly 80 percent of health data will be stored or passed through the cloud at some point in its lifecycle.
For many healthcare organizations, that shift to the cloud requires rethinking critical systems and partnerships. And while the move to revamp data infrastructure and seek out secure cloud partners has already begun at most hospitals and clinician offices, the urgency is only expected to increase in 2016.