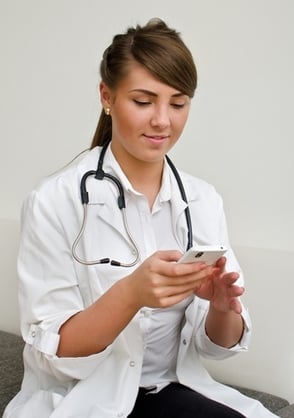 Texting with patients can be effective and efficient.
One of the biggest challenges of delivering quality care is communicating with patients in a timely and efficient way. Healthcare providers know that security is key when sharing patient data, which makes some systems, like traditional email and text messaging, off limits.
At the same time, interoperability issues continue to plague many health systems. As more patients seek out their health data, some clinician offices are still relying on old-fashioned fax machines or print outs in order to share information.
It is possible to assuage modern security concerns and streamline office operations to make medical communications dramatically more efficient. Here's how:
"Tapping out a text to communicate with patients can be fast and efficient."
1. Seek secure texting
Tapping out a text to communicate with patients can be fast and efficient, and more than 80 percent of people with cellphones use text messaging, according to the Pew Research Center. Yet many doctors have shied away from text messages because of privacy concerns, as standard SMS texting is noncompliant with the Health Information Portability and Accountability Act (HIPAA). New apps, including TigerText, could change that. These apps are aimed at healthcare providers and offer a secure, HIPAA-compliant way of effectively texting with patients.
2. Encourage patients to embrace the portal
Sending electronic messages over standard email can open your practice up to HIPAA violations and leave your patients vulnerable to medical data theft. But communicating through a patient portal is just as easy as sending an email, with additional layers of rigorous security in place that will give you and your patients peace of mind. If your patients have been slow to register on the portal, remember that repetition can be a huge motivator. In a survey by TechnologyAdvice, 49 percent of patients reported that they were told about the patient portal just once. Only 9 percent of patients said that their doctor followed up with them about using the portal after the office visit.
3. Set up auto alerts
If your office staff is bogged down with phone calls letting patients know their lab results are ready or it's time to schedule a follow-up visit, now is the time to set up auto alerts. A patient portal can be configured so that new uploads of routine documents, like lab results, trigger an automatic and secure email alert to the patient. It can also send reminders about upcoming appointments, freeing your staff from manning the phones and minimizing costly no-shows.
"There is no one-size-fits-all approach to communicating with patients."
4. Train staff to combat stereotypes
There is no one-size-fits-all approach to communicating with patients, and clinician offices must be careful not to push one platform or style. But train staff to avoid falling victims to stereotypes, too. Don't assume that older patients won't be interested in hearing about text messaging, for instance, or that low-income patients might not have access to a smartphone. Instead, train staff to approach patients with open-ended questions, asking about their communication preferences and presenting the most efficient options available.
5. Review and reassess
The pace of technological change is accelerating, which means no communication strategy should be set in stone. While you may not have a chief technology officer to stay on top of trends, you can partner with reputable third-party vendors to make sure that the practices is using the most appropriate technology. Also set periodic reminders to review what types of communications are resonating most with your patients, so you can adjust where staff puts it attention and effort moving forward.