I admit it: I completely missed the news on Monday that Apple unveiled a piece of technology that could, again, greatly enhance the role of technology in health care. Overshadowed by their new toy, a watch that will have people tailgating for technology sometime in April, Apple slipped in seemingly benign presentation about health care. I bet you probably didn't get the full picture, because man, was that watch cool, or what?
ResearchKit is a framework that will enable the creation of clinical research apps that can open the doors to unprecedented participation in clinical trials that seek to improve health care treatments or establish cures. The new framework can open up a world of patients to clinical research studies, where previously, geography or time constraints may have been restricting factors that prohibited patients from participating. Apple has chosen five diseases (Parkinson's, diabetes, cardiovascular disease, asthma and breast cancer) through which the industry will dip the collective toe into the possibilities of ResearchKit. I strongly encourage you to watch the video on Apple's website to get a better understanding of what it can do for humanity. It may not have a cartoon mouse that tells time in it, but it is still exciting stuff if living a longer better life is something that interests you.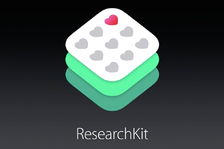 http://techcrunch.com/2015/03/09/apple-introduces-researchkit-turning-iphones-into-medical-diagnostic-devices/#ikCuz5:bmRy
While the critics and cynics may question Apple's motives, as an idealist, an admitted Apple junkie and a seasoned Healthcare IT project manager, I could not be more thrilled to see this industry giant get involved. For me, ResearchKit hits home on so many levels. I am at risk for diabetes due to my family history, I have dealt with, and defeated, a rare condition, and I make my living implementing technologies that can make a positive impact in the way health care operates. I sit about 5 feet from a brilliant developer everyday at work who will take this framework and do things that will change the way we take care of ourselves, and I hope that there are hundreds of programmers, just like my colleague, who can't wait to take a crack at this.
While these are great strides towards the advancement of clinical treatment, one might ask,"What about the data? Won't patients' private information be be available for all to see?" In short, the answer is no, the great thing about this arcitecture is that it is a direct conduit between the researcher and the participant; apple has publicly stated that not even they will have access to the information.
Switching gears yet again, Apple providing this open source framework to the Healthcare community is another milestone in shifting the public's perception of the company's willingness to give back; without expecting large profits in return. To paraphrase a conversation I had earlier today with our CTO, Cliff Cavanaugh, Apple has never really been into charity, as they have always considered their devices to be gifts to the advancement of man, and since there is little to no money to be made in getting into the clinical trial business, then perhaps under the leadership of Tim Cook, Apple is finally giving back in their own way.
Whichever camp you find yourself: The critics who see the negative or the idealists who see the possibilities, it doesn't change the fact that ResearchKit could impact the way serious diseases are treated. The opportunity is there, all we need to do is embrace the technology.