To get started, log in to your profile at https://secure.healthjump.com/login. You will always land on your dashboard to start.
1. From the dashboard you will have two points of interaction from the Your Doctors tile: Send Message and Request an Appointment. This lesson will cover requesting an appointment.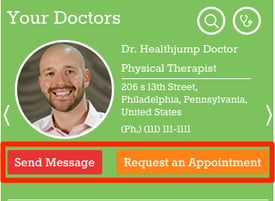 2. After you click Request an Appointment you will be redirected to the doctor details screen. If the healthcare provider/location publishes their available appointment slots, you can pick the date and time that works best for you. Selecting the date and time does not guarantee that the time is yours or actually book your apointment; staff will need to confirm with you that you are booked.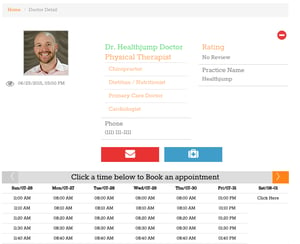 3. Once you select your time, you will be taken to the appointment screening questions your healthcare provider/location has set up, and this is also the screen you are directed to when your healthcare provider/location does not publish appointment slots. Answer the questions as best you can and click Request Appointment.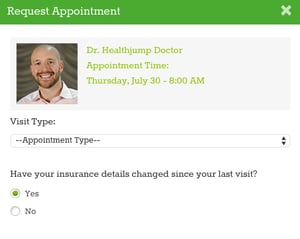 4. Finally, another way to request an appointment is to click the Doctors tab on the left navigation bar. This will take you to your connected healthcare provider/locations page. From here you can perform a number of functions, one being an appointment request. Click the orange icon to go through the steps for requesting an appointment using the same process as before. If the healthcare provider/location is not connected to Healthjump, the prompt will simply ask you to confirm your phone number so we can send a fax that will ask the staff to give you a call to book the appointment.

In the next lesson, we will cover medical record requests through Healthjump.