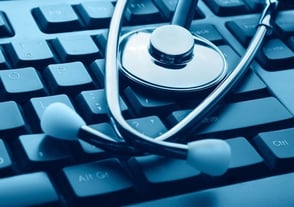 Could having access to your health data make you more vocal at the doctor's office?
Patients with access to more information about their own health and medical records are more likely to take better care of themselves, to follow doctor's orders more closely concerning their care and to seek out answers and second opinions, experts say.
That's true in the case of Steven Keating. When a brain scan showed a slight abnormality, doctors suggested he get a follow-up scan later to monitor the area, according to The New York Times. But, armed with his own medical records, Keating did much more than simply wait for doctors to monitor his health. He researched the brain abnormality, asked detailed questions of specialists and even alerted his doctor when he started smelling whiffs of vinegar (a seemingly unrelated symptom that pointed to tumor growth pressing on his olfactory center). His medical team eventually removed a large, cancerous tumor from his brain.
You don't need to have brain cancer to benefit from the health-improving powers of a personal health record. Having access to your own medical data and being able to input personal observations and notations into that record can empower you to better manage and monitor almost every aspect of your health. Here are six empowering benefits of logging on to a personal health record:
"With a personal health record you'll be able to spot subtly troubling trends."
1. Spot small red flags
Your doctor might not raise a red flag if your health metrics are within the normal range, but with a personal health record you'll be able to spot subtly troubling trends, such as minor weight creep or blood pressure that's inching higher than it was even a few years ago. That attention to detail can prompt a talk with your doctor about lifestyle changes that could help curb the onset of chronic health conditions or illnesses.
2. Get prepped for doctor's visits
Most doctors spend a relatively short amount of time with a patient during a visit and are focused on the particular illness or issue at hand, which means being prepared with a list of questions or concerns is key. A personal health record makes that sort of preparation easy by offering a dashboard of health metrics and an overall snapshot that can remind you of issues you've been meaning to address. That helps ensure that important but non-pressing questions aren't overlooked and get the attention they deserve.
3. Manage your at-home care better
With a personal health record, you can access any advice or follow-up care plans from your doctor in between visits and make sure you're hewing to them exactly. You can also integrate your own data, including straightforward metrics like daily blood pressure measurements or weight checks, and more advanced data, like sleep-tracking devices or Wi-Fi-enabled pedometers. A personal health record makes it easy to review how much activity your doctor suggested, for instance, and compare that figure with exactly how many steps you're taking each day.
4. Suggest care changes
If your follow-up visit shows your health isn't improving as swiftly as you'd like, you can talk with your doctor about how to change the prescribed care regimen. Having a personal health record makes it easy to verify how closely you've followed the prescribed plan, so your doctor can feel confident in your compliance and have a thorough understanding of what might or might not be effective in terms of your health. Rather than talking in generalities, you'll be able to answer questions with specific, concrete answers that can drive more detailed changes.
"Staying ahead of screenings and vaccinations becomes easier to coordinate."
5. Stay on top of screenings
A personal health record is a one-stop solution not just for existing medical information but also for appointments and reminders. That means staying ahead of screenings and vaccinations is easier to coordinate, and you won't have to rely solely on your doctor's office to remind you about scheduling a specific appointment. When parents use personal health records, their children are more likely to get their preventative well-child check-ups on time, according to the Mayo Clinic.
6. Take the long view of your health
You might have filled out a family health history when you first started visiting your doctor's practice, but odds are you've rarely reviewed that information again. With a personal health record, you can continue to update information or add details as you remember them. That means when a cousin is diagnosed with breast cancer, for instance, you can note that in your personal health record and make a note to share that information with your doctor at your next visit.