To get started, log in to your profile at https://secure.healthjump.com/login. You will always land on your dashboard to start.
1. Next, click on the Family tab on the left navigation bar.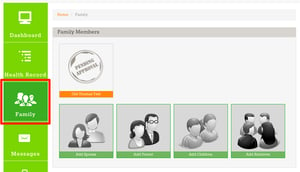 2. First, we will cover how to add family members to your account. Start by selecting the family member you want to add. The options are spouse, parent, children or other relative.
3. Next, decide whether you would like to create a profile for this family member for you to manage or simply just add this family member to your list of relatives. Selecting "No" will end the process for this family member by adding them to your family list.

4. If you selected Yes, enter the first and last name of this family member. Next enter their email address if you wish to give them access, otherwise select No if you plan on being the only one to access the account. This will add the family member to your list and allow you to toggle back in forth from the top of the screen where your name and profile picture display.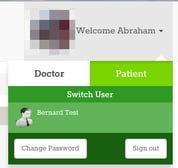 NOTE: In the event of children, they may eventually want to take over their account, so it is best to create an email that you control to eventually pass on ownership to them when they are old enough.
5. Finally, decide on whether or not to give your family member access to your account if you decided to send them the invitation. The family member will display as a pending connection until they accept the invitation via email. If you sent the invitation the family member will need to accept the invitation and create a password to gain access. You will be notified when they accept your request, and you will be able to toggle back and forth between your account and his/hers once the accept the invitation.

6. The Share My Account section allows you to give access to another Healthjump user or invite a new member. For existing members, simply add their email and click Send Invitation. For new members, enter their first and last name then enter their email address twice to confirm and send the invitation.