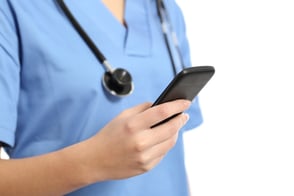 HIMSS15 heard forecast for mobile technology in healthcare.
In April, roughly 38,000 medical practitioners and healthcare experts descended on The Windy City to attend the 2015 Healthcare Information and Management Systems Society annual conference to discuss the past, present and future of healthcare. Amidst the intellectual side conversations and scheduled lectures, the HIMSS Mobile Technology Survey, which forecasts mobile trends, was released at the event.
Mobile technology saves money
As stated by HIMSS, the 238-respondent survey indicated that healthcare professionals are embracing mobile technologies like never before. Organizations are increasingly leveraging mobile tools to meet the goal of reaching more patients without in-office visits.
"General findings paint a bright picture for the future of mobile technology."
General findings paint a bright picture for the future of mobile technology. According to the survey, 54 percent of respondents said mobile technology resulted in cost savings. The areas and respective percentages for this finding are: 24 percent preventative support care, 22 percent telehealth interventions, 21 percent resource utilization, 20 percent care continuum and 14 percent remote patient monitoring.
These numbers are only expected to grow, assessed the HIMSS. Nearly half of respondents stated the deployment of mobile technology as a top priority, with the majority indicating that they currently don't have a mobile policy.
How to join the mobile movement
Embracing mobile technology is a long and windy road. A practice must implement a new Bring Your Own Device policy, train staff and invest in data security, specifically a vendor that offers encryption, password security and other features to prevent data breaches. Protecting private health information is what makes this process complicated because failing to do so can lead to legal repercussions. Under the Health Information Portability and Accountability Act, a technology vendor, practitioner and practice can potentially all be held liable in the event of a breach.
It's crucial that practices overcome these hurdles to migrate to mobile technology, or they'll be left in the dust. Health Management Technology explained that there's nothing better than using a smartphone to quickly look up drug information or a diagnosis list. In due time, these small offerings might draw a line between up-to-date and obsolete practices.
Deploying the patient portal is also a step in the right direction when it comes to healthcare technology. The user-friendly platform lets patients and doctors retrieve records and exchange dialog at the click of a button.
Get a leg up on the future of healthcare by pairing mobile technology and the patient portal. For more information on the patient portal, visit Healthjump's website.