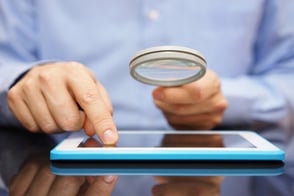 Fixing errors in your medical record can improve the quality of your care.
From typos to oversights to inaccurate information, medical errors can pose a serious risk to your future health. That's because doctors and other healthcare providers rely on the accuracy and completeness of this info to determine everything from how safe a medication may be for you to how effective a certain course of treatment might be.
As more health care providers have adopted electronic health records, errors caused by sloppy handwriting will likely go the way of the dodo bird. But that doesn't mean that medical record errors will go extinct as well. When investigators examined the medical records of 258 patients who underwent cataract surgery in a one-year period, they found that less than half of the records were complete and free of errors, according to Medscape Medical News.
Those errors aren't the result of malice, but that doesn't make them any less dangerous. As more doctors, nurses and administrative staff adjust to working with electronic health records, it's easy to accidentally click the wrong button. At one hospital, the voice recognition dictation system erroneously recorded DKA (for diabetic ketoacidosis) as BKA (for below the knee amputation). It wasn't until several more trips to the hospital that someone noticed that the patient, in fact, had both legs intact and corrected the mistake.
Sometimes the error isn't one of addition but omission: not responding promptly (or at all) to abnormal test results is one of the top five most common sources of errors, according to researchers at the Robert Graham Center for Policy Studies in Family Medicine and Primary Care. Other common medical record errors include medication prescribing, medication dispensing, laboratory testing and misfiling of medical records.
How can you ensure your medical record is accurate and complete? Follow this five-step guide.
"Spotting an error starts with taking the time to review what's been recorded."
1. Get a copy of your record periodically
Spotting an error or omission starts with taking the time to review what's been recorded during your doctor visit or hospital stay. A personal health record makes it easy to have an up-to-date, accurate and secure record of every interaction you have with your health care providers. But you'll also want to review their records on occasion to make sure they're not riddled with errors that could compromise your care. This is especially important following any surgeries or major diagnoses.
2. Scrutinize your contact info
You'll want to double check your contact information to make sure that a typo or out-of-date phone number doesn't stop a health care provider from being able to reach you with lab results or follow-up queries. The wrong mailing address could be equally troublesome. If you do spot an error, set the record straight by contacting the appropriate hospital or doctor's office and asking that the information be corrected.
3. Be on high alert for medications
Prescription medications are particularly rife with medical errors, as doctors note the wrong medication, the wrong dosage or fail to note when the med has been discontinued. When you review your medical record, don't gloss over the medications section. Take the time to make sure that exactly what you have in your medicine cabinet (including the proper dosage) is listed in your record, and that any medication allergies are clearly noted as well. If you spot an error or an omission, contact your health care provider to have the error fixed. Keep in mind that every doctor you visit likely has a list of medications you've been prescribed, so you'll want to review that info periodically with each health care provider to make sure it's up to date and accurate.
"Even a minor error could hinder an accurate diagnosis down the road."
4. Review any notes taken during your visit
Particularly, if you're seeking help for a chronic or troublesome condition, you'll want to ensure that your symptoms are accurately and thoroughly tracked. Carefully review the notes the doctor entered into your medical record during the visit. Noting that your ear ache is dull and throbbing when you said it was sharp and acute might not seem like a dramatic difference, but even this minor error could hinder an accurate diagnosis down the road. That's especially true if you're eventually referred to a specialist who relies on your doctor's inaccurate notes to get a sense of your medical history.
5. Follow up to fix the errors
When you spot an error in your medical records, whether it's a typo or an inaccurate description of what transpired, reach out to the appropriate health care provider promptly to have the record righted. The office may request that you submit a form in writing to amend your medical record. For more involved corrections, you may need to draft a letter outlining exactly why you think the medical record is erroneous and what the correction should be. Though you may be upset when you spot an error, try to keep your letter matter-of-fact and to the point. The office staff will want to swiftly and clearly understand the correction in order to update your records.
Keep in mind that while reviewing your medical records and correcting errors might seem a nuisance now, doing so may help you avoid health complications in the future.