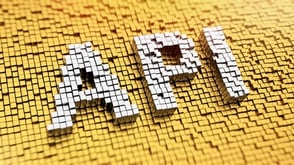 APIs could help solve the interoperability issues plaguing health IT.
Being able to seamlessly and securely transfer patient data between different software applications remains the holy grail of health IT. Even as a wave of health data has become available for clinicians to share and analyze for stronger outcomes and higher quality care, health IT applications have struggled to work together. Many healthcare providers complained that individual EHRs didn't integrate well with other platforms, and patients have seemed hesitant to embrace health IT that doesn't offer a seamless user experience.
Enter the application programming interfaces (API). APIs allow different software applications to easily communicate with one another by passing information seamlessly back and forth. They're the reason web developers are able to easily integrate common apps, like Twitter feeds or YouTube videos, into their web pages. In the medical space, APIs could revolutionize the interoperability of the health IT landscape. In turn, that means APIs may dramatically shift both consumer access to and interest in health data.
Requirements rollout
Current stage 2 meaningful use guidelines require that patients have the capability to view, download and transmit their data from an EHR through a patient-facing portal. Clinicians and healthcare providers aren't only required to offer this service, they must also invest in engaging patients to embrace it.
"Some hospitals struggle with interoperability and patient engagement."
It's proven quite difficult for those hospitals and healthcare providers, who struggle with interoperability issues and poor patient engagement, to get patients to embrace the new technology as a result. As APIs boost interoperability among health IT platforms, it's likely that patient engagement around health data will likewise increase.
That's good news for healthcare providers, considering that the proposed stage 3 meaningful use guidelines raise the engagement bar to a full quarter of patients. The standards, which would be optional through 2017 but mandatory for all hospitals in 2018, do offer a slight change in how patients must be able to access their information, though. In their quest to have 25 percent of patients engage with their health data, hospitals may offer that functionality through a patient portal or through APIs.
As the Centers for Medicare and Medicaid Services explained in its proposed guidelines statement in March: "Patients would be able to collect their health information from multiple providers and potentially incorporate all of their health information into a single portal, application, program, or other software. We also believe that provider-enabled APIs allow patients to control the manner in which they receive their health information while still ensuring the interoperability of data across platforms."
"APIs could make it easier for patients to engage with their health data."
An open embrace
APIs would more easily allow health care providers to satisfy the requirement that patient data be ready for viewing and download within 36 to 48 hours of being seen by the physician or discharged from the hospital, for at least 80 percent of all patients. But this move does more than simply ease the access burden on the health care provider.
By throwing open the doors to its data for all applications that meet the technical specifications of the API in the provider's certified EHR, health care providers could radically increase patient engagement as well. That's because APIs could make it easier for patients to engage with their health data beyond the parameters of a traditional patient portal. They'd be able to access and interact with that data in new and novel ways.
With Humana at Home, for instance, APIs allow patients to access their medical records and integrate that data into home monitoring and fitness devices. Clinicians are then able to monitor that information remotely and track patient progress on particular health goals, spotting any red flags long before a patient might think to schedule a follow-up appointment.
"APIs afford us collaboration with communities of entrepreneurs and partner companies to drive value and make us easy to do business with," Paul Friedman, Humana's director of IT, told CIO magazine.
As APIs feed the ecosystem of businesses interested in tailoring consumer-facing offerings around health IT data, patients will have an exponential array of ways to engage with their data. More patient engagement can further unlock the promise of health IT: higher quality outcomes across the patient care continuum. That's a win-win for patients and providers alike, fueled by greater interoperability at the technical level.