A recent report by the National Academy of Medicine (NAM): Improving Diagnosis in Medicine (Sept 22, 2015), is a thoroughly researched study (as you might expect), on the incidence of diagnostic errors and what needs to be done to prevent them. It follows a document published much earlier Crossing the Quality Chasm: A New Health System for the 21st Century (2001). The earlier report has had a great influence in improving the quality and safety of the healthcare system, as did Dr. Atul Gawande's book, "The Checklist Manifesto: How to Get Things Right" (2011). Yet there is a lot of room for further improvement, the NAM, in its latest report, has focused on diagnostic errors.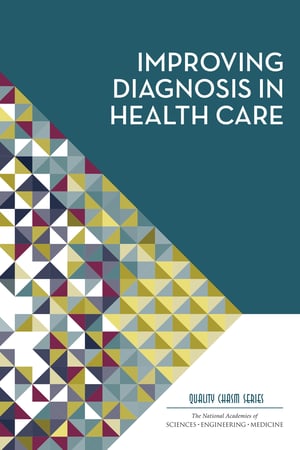 Clinical diagnoses in healthcare are not produced by a stereotypical doctor examining a patient, in a lab coat with stethoscope around the neck. Diagnosis is the output of a system where data must be collected, stored, communicated and thoughtfully considered. Facts and analysis of the case are reported by the patient, by the family and caregivers, by the nurse, and test results. Thus, a diagnosis is the result of the efforts of a full care team.
However, we need the tools and processes for this complex system to produce timely and accurate diagnosis. It is not always the case that a diagnosis is timely and accurate, and once there is a diagnosis, the healthcare system is reticent to engage in critical questioning. Does the diagnosis fit the facts? Are there new facts which contradict the diagnosis? Should we regroup and reconsider?
With my wife's permission, allow me to illustrate with her example. She was diagnosed with Celiac Disease when she was in her late 40's. She had experienced symptoms of this condition all her life, yet a combination of factors, including lack of awareness to the disease (until recent years) and its rarity in Asia (where she was born and raised), led doctors to dismiss Celiac Disease as a possibility despite clear evidence of the condition.
They would not consider her celiac, because celiacs are typically diagnosed as children, and given that my wife had prospered until adulthood without a diagnosis, Celiac Disease was discarded without as much as a second thought. Finally, one doctor was able to look at the facts with an open mind, he saw that if it walks like a duck and quacks like a duck, it must be a duck. My wife and I are eternally grateful. She took gluten out of her diet and her symptoms disappeared in weeks.
The NAM report offers a chilling statistic: chances are that all of us at one point in our lives will receive a significant misdiagnosis, some of these leading to early death.
My brother died as a result of diagnostic errors.
The report emphasizes two key issues, patient engagement and communication. We might feel powerless to change the healthcare system as much as we might feel powerless to affect politics, but we can directly improve our individual odds of being properly diagnosed, as discussed in the report. We, as patients, need to communicate effectively, not just with the provider in the lab coat, also with the nursing staff, with our family and caregivers, essentially, with the full care team.
Effective communication is not flooding the system with our woes and complaints, it is a thoughtful and considered list of symptoms, facts and data. Ensuring that our medical records are complete, accurate, and our medication list is current is critical. Once we have a diagnosis, we need to learn about it. Test what we know of the reported symptoms going forward, and we need to understand and follow the care plan we have received.
The care plan should of course be in harmony with our lifestyle and environment. For example, the treatment of a knee might not be the same for a runner or a cyclist. Again, proper communication is a requirement for the appropriate care plan to be devised, and can be adjusted as needed going forward.
Don't be a statistic, let me suggest a course of action, use Healthjump to keep your health record current and accurate, and to communicate with your provider. As you become more involved, you will not only help your case, you will also help to affect change in the healthcare system which, as the report emphasizes, needs patient engagement to improve.