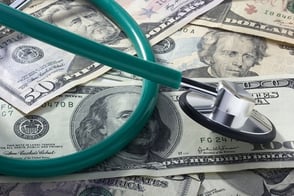 Delivering cost-effective care is a priority for all practices.
Modern clinician offices face leaner margins and tighter time constraints, yet the same desire to keep patients healthy and improve health outcomes. Technology, including patient portals, can help bridge the gap between a harried office and a healthy patient. Maximizing the benefits of technology investments doesn't mean utilizing every possible feature. It means strategically deploying the available technology to deliver quality care in a cost-effective way. Here are three strategies to consider:
1. Remote monitoring
Patients with chronic conditions require routine check-ups or follow-up visits that can eat away at a doctor's day. And when no change in care is needed, the visit can feel like a waste of time for the patient as well. Remote monitoring can be a salve on both sides, feeding information into the patient's EHR from afar and curbing the need for in-person visits.
In a survey of more than 1,000 medical students, 97 percent said they would recommend patients use a monitoring device. By monitoring that data remotely, the healthcare provider could determine whether the patient requires an in-person visit, a secure communication or no intervention at all. Secure electronic communication goes hand-in-hand with remote monitoring, and the survey found that 74 percent of respondents would email a patient via a patient portal.
"Technology can serve as a valuable ally in training and overseeing staff."
2. Empowered nurses
A slew of research studies have shown that nurse practitioners are a cost-effective means of delivering quality care, with patient outcomes that can be on par with care delivered by physicians, according to Managed Healthcare Executive. That means having trained and empowered nurses on staff can reduce the costs associated with lengthy physician visits while still maximizing the number of patients seen by the practice.
Technology can serve as a valuable ally in training and overseeing new nursing staff or expanding the scope of existing staff's duties. EHRs, for instance, have been shown to minimize the risk of misdiagnosis and help safeguard against medical error. Reviewing staff actions and patient treatment plans is also streamlined and efficient with an EHR, requiring just a few clicks of a button rather than hours of face-to-face patient interaction.
3. Stronger compliance
While an accurate diagnosis is essential to putting a patient on the path to health, the real road to improvement is paved with patient compliance. Patient portals have been shown to bolster compliance and patient engagement in improving their health, according to HealthIT.gov. That makes it more likely that patients will follow through on prescribed care routines and also review materials that describe their condition and treatment.
Having that information handy to review will cut back on the number of time-consuming phone calls the clinician office receives, with patients verifying information they forgot to jot down. Portals also allow patients to conveniently request medication and referrals online, rather than scheduling a costly in-person visit. With a portal in place, you and your staff can spend more time on smart revenue-generating activities and less time trying to assist and enforce routine compliance.