People outside of the healthcare industry (AKA: average patients) are becoming more aware of a movement that is happening in healthcare regarding how doctors are interacting online with patients through websites known as patient portals. What most patients are not aware of, however, is that the federal government is fueling this movement through an incentive program commonly referred to as Meaningful Use (MU). This program incentivizes doctors and hospitals for using a computer application called an electronic health record (EHR) in a calculated way to advance healthcare standards towards better outcomes for patients and improved efficiency for medical practices and hospitals.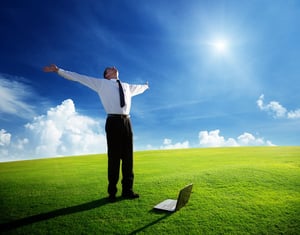 It's time we all got the bigger picture
The MU program exists in three stages.
Each year, there is a reporting period for doctors and hospitals to tell the government how they did based on the objectives of the program. If they meet those objectives, they get an incentive, (totals for the entire program are currently well over $20 billion since 2011) and if they don't meet the objectives or don't participate, reimbursements from Medicare or Medicaid insurance will be a percentage point down every year for a possibility of 5% maximum reductions.
Stage one is about the basics of the EHR application; making sure that standard clinical and operational procedures are in place and to collect basic patient information at every visit (It's not just for your health when the nurse asks if you are a smoker). Stage two had a purpose, which was to improve the clinical workflows within the application, but a roll back last year and modification this year have really muddied the waters and left practices with a stripped down version to which participants can easily attest. As patients, even the most computer illiterate, healthy person should know about stage 3 and what it means for the future of healthcare and the overall health of the population.
A majority of the doctors and hospitals have gotten past stage one. So, now that doctors and hospitals are using EHRs for patient charts, the biggest hurdle in healthcare IT will be to make all the different applications talk to each other so that patient records can freely move back and forth as needed between applications using a standard format. When this goal is achieved at a national level, doctors will be able to get a patient's chart in an instant. Patients will be able to consolidate these records into one master file that provides the complete view of a patient's health. Allow me to provide a few examples on why this is a big deal:
1. We can cut down on the #3 killer in the United States: preventable medical errors. We can avoid needless mistakes.
2. We can become more educated and, therefore, healthy people by participating in our healthcare. We can live better lives.
3. We can contribute to deidentified databases of patient information that could lead to breakthroughs in treatment. We can fix problems for future generations.
It's time to make a choice.
The future is laid out, yet still uncertain, when it comes to the progression of healthcare IT. MU can only go as far as the medical community will allow it to go. Many doctors do not participate in the program and have outright rejected the thought of moving away from the antiquated paper chart. It is up to patients to decide what kind of relationship they would like to have with their doctor(s) moving forward. No single patient has the power to persuade a private practice into using electronic methods of record keeping and communication, but as the entire patient population comes to expect to use a patient portal to request an appointment, change will come. The choice is on all patients to determine how quickly this change happens.