Well, we are close to the halfway point of 2015. It is almost certain that all potential stage 2 meaningful users will get a break when it comes to the reporting period for this year (going from a full year to 90 days), and it is going to be a lot easier to comply with the standards after the thresholds are lowered. Yet, if the current rules in place were to stay, it would ensure that the entire incentive program would implode as the majority of eligible providers (EP) fail to meet their goals. In 2015, for the first time, the fault is not completely on the EP and his/her staff, because patients are playing a part in who passes and fails on stage 2.
I suggest that instead of looking at the patient engagement objectives as a group of targets where a certain percentage needs to be lured into certain actions, put on your patient hat and see if the portal is something you would use. Chances are that if you can't get through it and do not find it useful, neither will the patients. Everyone on staff that will be handling portal tasks needs to register as a patient and try out all the features themselves to get an expert understanding of the patient experience.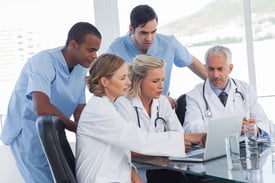 The most important thing to remember is that patients are only going to use a portal if it is fully functional and the staff is responsive. Implementing and executing on all of the portal functions is crucial to successfully engaging patients online, and once the patient is engaged, keep them coming back with more tasks that will be helpful to their health management. It should also go without saying that staff should respond quickly to all questions and requests to show patients that this is the best way to communicate with their healthcare providers.
Everyone is a patient, so the next time you go to the doctor, make sure you take advantage of their portal and use it whenever you need to communicate with that doctor and staff. You may discover a few tips or tricks that they are doing to engage their patient population.