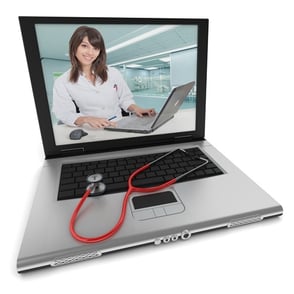 Clinician offices are eager to embrace telemedicine.
The doctor will virtually see you now? Telemedicine continues to move into the mainstream, with more patients clamoring to schedule appointments and talk with their doctors with the click of a button and through a virtual connection. The embrace isn't only happening on the patient side, either. More clinical practices are reporting that they are open and willing to conduct patient visits virtually.
Yet experts point to several roadblocks that still exist on the path to widespread adoption of teleheath (as telemedicine is also known). Roadblocks include the need for more research on the long-term value of such care, the impact of patient outcomes and standardized, industry-wide payment guidelines and processes.
Reimbursement Roadblocks:
Nine out of 10 doctors
would use telehealth to engage with patients for routine care needs if their offices were properly reimbursed, according to a recent survey of physicians conducted by the American Academy of Family Physicians and Anthem's Robert Graham Center.
"It's clear from our findings reimbursement remains one of the largest barriers to the use of telehealth in primary care," Andrew Bazemore, MD, the director of the Robert Graham Center, said in a statement.
Though insurance companies have grabbed national headlines by announcing that they plan to increase telehealth coverage, that's only one piece of the payment puzzle. Administrative costs, a lack of set billing practices, a need for training and unclear cost guidelines are all factors that concern the majority of clinical offices, the survey found.
"Consumer demand is driving innovations and excitement in this field".
The Personalized Future:
Still, telemedicine is a frontier that shows no signs of receding into the distance. Tech-savvy millennials and a rising consumer demand for convenience and personalized health care solutions are driving both innovations and excitement in this field. The global telemedicine market is expected to grow at an annual rate of 14.3 percent through 2020, eventually topping $36.2 billion, according to the National Law Review.
As more insurance companies begin covering this type of visit and more clinician offices work out the back-end administrative feats required to smoothly accept payment, telemedicine is expected to become more the norm rather than the exception. Keep in mind that personal health records were once viewed as a fringe product that would meet slow and limited adoption. Yet personal health records have since been embraced by everyone from elderly patients to parents, tech-driven patients and those managing the care of family members. That embrace was driven by a combination of patient interest, doctor willingness and, now, proven value for improved health and care management.
Though payment issues remain a roadblock today, some experts predict that telemedicine will eventually follow the path of personal health records and other health IT: convenient, innovative solutions that will help put the patient firmly in the copilot seat of directing his or her own care.
Ready to learn more about Healthjump's commitment to making health data accessible?