I have been putting off finding a new primary care provider (PCP) over the past few years due to a mix of laziness and lack of necessity. I really like my current PCP, but I moved 30 minutes south and it's not convenient to get to her office anymore. My health has been in good standing, so why make the change, right? Well this year's dry weather have been unkind to my sinuses and I felt that I may have an issue that requires something stronger than Tylenol allergy.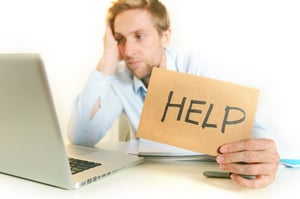 Figuring this to be the best time to find a new doctor, I began my internet research to find a great new doctor. After finding a few highly rated doctors, I decided to make the call to the one with the office that was closer to my house. I successfully navigated the phone queue and was connected with a staff member who could help me. The call began like this, "I am a new patient to your office and I would like to schedule an appointment."
The lady on the other end would not let me take it any further. She stated that I could not make an appointment until they had my chart. As someone who works at a medical record exchange and helps patients to get their records from doctors on a daily basis, I thought this was right in my wheel house. "No problem," I said, "I have my record stored electronically. Do you prefer direct message or secure email, or what?"
Once I said that, I could tell that I wasn't going to be a patient at this practice anytime soon. In summary, they were not technically prepared to accept my record, and she questioned the validity of the record that I had in my possession. She insisted that I go to my current doctor and sign a release form so the record could be mailed. I told her that this is the kind of waste and inefficiency I am working to correct on a daily basis. I ended the call in the best terms that I could and decided to look for another option. I do not understand why a practice needs my record before I schedule an appointment. Can someone tell me why?
My next call produced an equally frustrating result. I am currently a patient at a PCP enterprise with multiple practices. There is one about 20 minutes from my house, but it was same enterprise, so I could get around the whole records issue. Well, it turns out that despite the fact that my doctor has a patient portal, and thus uses an electronic health record application, they have no way to transfer the record. I was speechless. How do practices in an enterprise share a database where my record lives, and still have no ability to see my record?
At Healthjump I am actively working on a way to fix this problem. I want our patients to be able to search for a new doctor, read some reviews, request an appointment and send the record all in a few clicks. I know I am not the only one who has had an experience like this, and I am making it my mission to ensure that we make this as easy as possible for the patient and the office staff. I feel that right now the cart is way ahead of the horse, and it's time to make an adjustment where medical record ownership is purely a patient responsibility.