For every doctor who drug their feet or simply rejected the idea of converting to electronic health records there is another doctor who has completely embraced the new technology, but I would be hard pressed to find a patient, of sound mind, who does NOT want to control their own medical record. So, today is about providing the federal government an accurate perspective on how patients feel about easily and securely accessing their health records electronically so that tomorrow, it will be second nature to acquire, store, and maintain healthcare information online.
A petition has been posted to http://getmyhealthdata.org/ asking patients to enter their name and email as a show of support for the initiative to make things easier, and perhaps more uniform, when it comes to obtaining medical records from medical practices. By building public awareness, the organization seeks to start a conversation that has yet to gain the traction necessary for substantial change in industry standards, which are shaky, at best, with the pending changes to the Meaningful Use EHR incentive program yet to be published.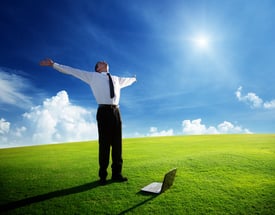 The organization also seeks to encourage medical professionals to support the cause, because, after all, we are all patients. Regardless of what business influences may have an effect on medical entities, this petition will hopefully serve as a preamble to the #dataindependenceday that the former National Coordinator for Healthcare IT, Dr. Farzad Mostashari, is shooting for this 4th of July on which patients will go from simply stating their interest, to flat out demanding medical records from their doctors.
I encourage everyone to take a minute to sign up, they won't spam your inbox and entering your information isn't going to land you on some crazy "watch list." It's just a good old fashioned petition delivered to you electronically... The way it should be.