Healthjump can trace one of its roots back to June of 2012 when I visited with my friend, an MD and EHR vendor. We discussed how his business might benefit from data integration and application integration technologies. I was new to the healthcare industry and was surprised to learn that patient medical records are not generally shared between practices, patients have little or no access to their records, and faxes are still "state of the art." I had also recently lost a brother as a result of poor data and lack of communication in the healthcare system.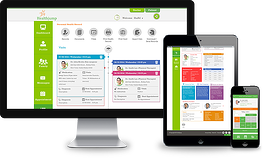 I may have been new to healthcare, but I was certainly not new to IT, and I had seen many industries revolutionize when its customers used electronic communication and had real time access to data. I had seen the successes and the failures, how industry giants tumbled, and new businesses emerged. In each and every case the customer reaped incalculable benefits when the providers of each product and service embraced these paradigms to find new and effective ways to reach their customers by cutting through inefficiencies, unnecessary intermediation, and building customer loyalty.
Fast forward to today: Our company, Healthjump, offers the most innovative platform in the industry, connecting patients to their doctors through a secure, ONC Meaningful Use certified Patient Portal. Healthjump provides services which can easily be imagined, but are difficult to provide in a highly regulated industry where multi-specialty practices require different software to utilize complex medical science that maintains privacy and security to extremely sensitive patient data. We not only connect patients to doctors, we connect doctors to doctors in the context of a given patient. We connect patients to patients through discussion groups, and patients to their family and caregivers. We also provide health information and medical education material relevant to each patient. Our software is designed with ease of use, accessibility and patient engagement in mind.
Through Healthjump, members can manage all the administrative activities related to their health, make appointments, receive appointment reminders, prepare for doctor visits, refill prescriptions, pay co-pays, review medical records and more, all from any PC, tablet, or smart phone app. We also provide a secure messaging service for patients to communicate with their doctors on their own terms, no more phone tag or endless phone queues. A doctor referring a member to a specialist, or to other providers such as physical therapists or dentists, can share the relevant medical record. The Healthjump development team investigates all the third party apps and devices which a member might use, such as, a weight loss app, an exercise app, glucose monitoring devices for diabetics, or heart monitoring sensors, so that they can be connected through Healthjump to the patient's record and to the doctor, thus helping to provide warnings when a clinical parameter has breached safe boundaries.
We have assembled a first class team of software developers, industry specialists, licensed providers, sales partners, and customer support staff that are ready to serve our patients and medical providers through a commitment to the consumerization of healthcare. The future is bright at Healthjump, but we don't sell vaporware. Every feature of our software that we promote is operating and ready to give you outstanding service.
We look forward to serving YOU, and by serving YOU, revolutionize the industry.