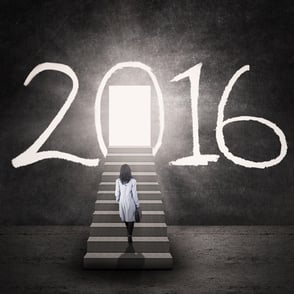 A personal health record can help you be healthier in 2016.
Tis the season not just for holiday cheer and merriment, but also considering what we want to accomplish or change in the New Year. Roughly half of Americans make resolutions of some sort, according to a Harris Poll, and improving our health tends to be near the top of the to-do lists. Some 21 percent of survey respondents said they committed to losing weight, 14 percent made resolutions that involved exercise and 5 percent wanted to cut back on or quit smoking.
Yet at the same time that so many Americans are clamoring to improve their health at the close of each year, many of those well-intended resolutions won't last long into 2016. Less than 1 in 5 people who set resolutions are successful in meeting them, the survey found.
How do you set yourself up for success in the quest for better health?
"It's not so much the resolution as it is how attainable or realistic the goal is," John C. Norcross, a professor at the University of Scranton, told NPR. The more concrete the goal, the more likely you are to follow through, he explained.
For a concrete, attainable goal that can help buoy almost every area of your health, consider making it a resolution to set up a personal health record. This type of record makes it easy to gather and store all of your health data in one place, as well as share that information with different providers and input additional notes and data yourself.
"A personal health record makes it easier to follow through on healthy habits."
Putting yourself at the dashboard of your health information extends far beyond simple data management, though. A personal health record can make it easier to take charge of your health and follow through on healthy habits you've been meaning to change. Here's how:
Spot your personal trends
With a personal health record, you're able to monitor metrics as they rise and fall and spot worrisome or heartening trends that you might otherwise miss. That means it's easier to see, for instance, that you tend to gain a few pounds each winter or that your blood pressure improved while you were training for that half marathon. You can proactively bring up those issues or insights with your doctor, rather than waiting for those small trends to develop into a larger issue.
So much of healthcare is about context, and a personal health record provides a wealth of context. Rather than figuring out what diet or exercise changes you might want to make based only on your health in this moment, you'll have historical data to better assess what's working and what needs improvement. That can make picking and implementing changes more effective and the health benefits more pronounced.
Get more engaged
The hardest part of setting a get-healthy resolution for the New Year may be maintaining your enthusiasm as time wears on. You might only see the scale dip slightly every time you take your weight and grow frustrated by the slow progress. Or you might not realize that your low-fat diet is actually benefiting your cholesterol levels, because the change is slow and subtle and your doctor might not notice the incremental change. But personal health records make it easy to be more engaged in your health and healthcare because you can see the data, and you've climbed into the driver's seat of controlling your health.
"Americans who accessed a personal health record knew more about their health."
A study by the California HealthCare Foundation found that Americans who accessed their health information through a personal health record knew more about their health, asked more questions at the doctor's office and generally took better care of themselves than before they had access to a personal health record. "This survey shows that when individuals have easy access to their health information, they pay greater attention to their health," CHCF president Mark D. Smith, M.D., said in a statement. "The survey documents that PHRs empower some people including some of the heaviest users of the health system to take better care of themselves."
Speak up at the doctor's office
If you find that you don't spend much face-to-face time with your doctor at the doctor's office, it can be hard to remember every question and observation you meant to share. Even worse, if a doctor's care instructions are rattled off quickly, it's all too easy to focus on remembering those instructions rather than thinking through any follow-up questions you may have.
But a personal health record can improve communication between patients and their providers, for two reasons. A personal health record is a streamlined place to note any questions or concerns you have for your doctor as they arise. That means the next time you make a trip to the doctor's office, you'll only have to pull up that list to share with the doctor rather than trying to think back over every concern you've had. And because a personal health record makes it easy to review any home care routines or medications that your doctor has prescribed, you don't have to strain to remember every detail your doctor says. You can instead focus on talking with your doctor.