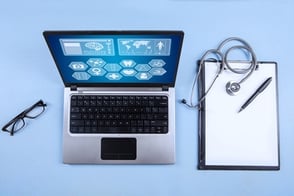 Poor usability continues to plague many EHR platforms.
When the American Medical Association and a team of researchers recently tested commonly used EHRs, they found that most had mediocre usability at best. The group measured the user-centered design elements of 20 popular EHRs on a 15-point scale, and they found the average score was a mere 11.5 points. The lowest score was 5, earning only one-third of the possible usability points.
"Physician experiences documented by the AMA demonstrate that most EHR systems fail to support effective and efficient clinical work, and continued issues with usability are a key factor driving low satisfaction with many EHR products," AMA President Dr. Steven Stack said in a news release about the ratings.
Any clinician or healthcare provider who has worked with an EHR knows that strong usability isn't just icing on the cake. It's essential to everything from adoption rates to accuracy to speed of use.
That's one reason the Office of the National Coordinator for Health Information Technology(ONC) turned its attention to usability. The ONC backed a recommendation by the National Institutes of Standards and Technology that EHR vendors use 15 participants or more when implementing usability testing. Yet just 37 percent of the vendors that the AMA tested had at least 15 participants in their usability tests.
The 15-person threshold is a recommendation rather than a requirement, which may explain why so few EHR vendors have complied. A similar issue plagues another recommendation made by the ONC. The group asked EHR vendors to report how they met user-centered design requirements in order to qualify their EHR systems for use by providers in the federal incentive payment program, Meaningful Use. When the AMA research team examined the ONC filings of 50 commonly used EHRs, they found that 18 percent hadn't filed any type of report on usability.
"Poor usability drives many EHR migrations."
EHRs, on the move
Poor usability is one reason that many healthcare providers decide to migrate to new EHR platforms. Particularly for providers who chose a vendor under deadline or didn't have a complete understanding of their usability needs, suffering through a subpar platform is relatively common.
In September, the ONC reported that more healthcare providers are looking for EHR replacements than ever before, with 4 percent of hospitals and 8 percent of eligible providers replacing their EHR vendors in 2014.
When practices decide to ditch their current EHR and move to a more user-friendly platform, migrating all of that data can be a major challenge. Data migration is essential because a practice relies on being able to view patients' historical data. Starting from scratch simply isn't an option when it comes to delivering high-quality and comprehensive care. Yet each platform is unique in terms of how data is parsed and stored and how users interact with the interface. That means moving that data from one system to another is a far more complicated endeavor than simply copying and pasting text fields. Many healthcare providers looking to make a move to a new EHR have found that when migration isn't handled properly, it can turn into a data disaster.
"You need to make sure everyone has the right set of expectations."
Migration masters
The ability and know-how required to extract, convert and import data from a clunky EHR into a new platform with stronger usability isn't yet common, nor is the migration process swift. Experts recommend that a clinical practice looking to make the switch reach out to a third-party team or an internal data analyst to help manage the conversion process. They also advise starting early, as a smooth data migration and EHR move can take six months or more.
"You need to make sure everyone has the right set of expectations. Your data analyst will be able to smooth that process. From a coordination perspective, that lets you focus on everything else," Sean West, vice president and general manager of data conversion at HealthPort, said at a recent convention.
One reason the process can be so lengthy: testing. Even with a committed stakeholder team and a clear sense of data requirements, making the move isn't as easy as flipping a switch. To ensure that your team can easily access patient data through the new interface, testing is mandatory. The industry best practice is to test sample sets of data well in advance of going live, in order to correct any errors.
Though data migration in order to move to a new EHR system can be a complex endeavor, a third party can help streamline the process. In the long run, the change initiative can be more than worth the effort if it means replacing a clunky EHR platform with poor usability, lower-than-expected adoption and slowed productivity with a more user-centric platform.