To get started, log in to your profile at https://secure.healthjump.com/login. You will always land on your dashboard to start.
1. Click on the Health Record tab on the left navigation bar.

2. From here you will see your clinical dashboard and 7 icons from which you can take further action on your health record. The clinical dashboard contains a comprehensive view of your healthcare interactions with your healthcare provider/locations. You will see a section for appointments, demographics, healthcare providers, insurance, and clinical data grids. You may manually enter information or upload a consolidated clinical document (CCD) to populate the clinical data grids.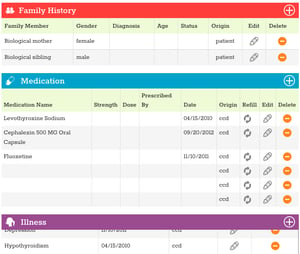 The 7 icons will let you perform the following actions in your health record:
Profile will allow you to update personal details such as patient, home and employment information.
Documents will allow you to upload, review and delete documents on your profile.
Vitals will allow you update and edit information regarding your vital statistics.
Print Health Record will allow you to print a copy of your current chart, which is the Healthjump generated CCD.
Print Health Card will allow you to print a wallet sized version of your health record with a condensed set of information.
Import Data is another button that directs you to the documents page.
Download / Send Records will allow you to view, download as pdf or xml, and transmit your CCD documents. If you know a doctors direct address you can send the CCD in xml format from this page.
In the next lesson, we will cover how to connect with your family members on Healthjump.