To get started log in to your profile at https://secure.healthjump.com/login. You will always land on your dashboard to start.
1. From the dashboard, you will have two points of interaction from the Your Doctors tile: Send Message and Request an Appointment. Today, we will cover sending a message.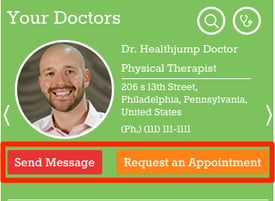 2. After you click Send Message you will be redirected to the messages page with the compose message pop up screen already populated with the healthcare provider/location's name in the recipients field. On this message template you will need to select a message type, write your message and click Send once completed.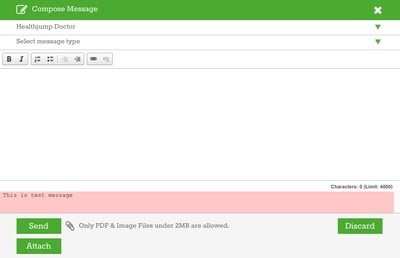 NOTE: You may also use rich text functions such as bold, bullet lists, and hyperlinks. Attachments are also available for use with a 2MB file size limit.
3. The same message functions apply when you click the Doctors tab on the left navigation bar. You will be able to click the red icon to launch the compose message template.

4. Finally, another way to compose and send a message is to click the Messages tab on the left navigation bar. This will take you to your message inbox. From here you can review all of your messages, and you can filter by message type, archive messages, and compose a new message. Composing a message here works the same as everywhere else, you just need to select your recipient.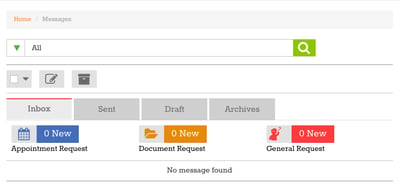 In the next lesson, we will cover requesting appointments through Healthjump.