As a child, there was probably a time when an authority figure asserted his/her will, forcing you into a chore or activity that did not seem to make sense or just plain interrupted the fun you were having. For me it was eating my vegetables. I just could not wrap my head around why zucchini or green beans had to stand in the way of getting back outside to finish off the neighbors in another game of street soccer. I played soccer all the time, it was the purpose of my childhood, and all the practice and competition made me a really strong player. I could never understand why vegetables always seemed to get in the way of my true passion.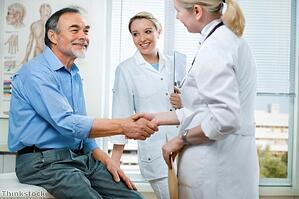 Patients and doctors should advance technology together.
Doctors are forced to contend with stronger and more influential governing bodies than any spoiled, suburbanite child ever faced, but the philosophy of resistance is fundamentally the same, I believe. Most practicing doctors spent the better part of a decade of their lives studying and earning accreditations in their chosen profession, which makes them, for the most part, extremely good at treating diseases and taking care of patients.
It should come as no real shock that many private medical practices are still somewhat slow, if not completely against, adopting technologies that have the capabilities to improve patient outcomes and population health. Because on the surface, what does a website for sending secure emails have to do with taking care of patients anyway? Perhaps another reason for the slow shift is because medical professionals are men and women of science, and the jury is still out on whether or not these technologies have the power to make the positive changes that they claim to facilitate.
The HITECH Act electronic health record incentive program, commonly called Meaningful Use (MU), has mandated that doctors adopt a secure method of communicating with patients online, and for the most part that means deploying a patient portal or personal health record platform. For every year that a doctor doesn't play the MU game, Uncle Sam gives that doctor less money back for insurance claims under Medicare or Medicaid. The total reduction could be up to 5%, which, for some larger practices, could be a lot of money. Thus, medical practices are inclined to be complaint, even if it means they do so with less than absolute enthusiasm.
Due to this forced participation, patients are being exposed to this lack of excitement as they begin to communicate online with doctors and staff who do not appear to be all in on the new method. Replies are not quickly sent and often times the replies are instructions on when would be the best time to call the office for further conversation. In a story recently published by The Washington Post, it was stated that only 28% of patients have access to a portal/personal health record website to communicate with their doctor. This is a higher percentage than I thought it would be, but it also illuminates how far there is to go when it comes to accepting this technology as a standard tool in the care process.
So now the care continuum is faced with a "chicken or the egg" problem. Is it doctors who will drive the shift to the portal, or is it up to the patient to start using the portal the way it is intended? Then office staff and doctors will recognize and gain trust and comfort the more patients begin to embrace the technology. As a patient I say it is up to us to make the shift happen.
The professional medical community is not some spoiled child pouting at an empty dinner table with a plate full of cold asparagus. It is an industry of brilliant and caring individuals who take calculated risks when it comes to the operations of their business. While a majority of patient portal usage is due to a forced participation, the technology is now at the fingertips of the patients, and it is up to us to make this technology a success, because a secure message is far superior to a phone call. An electronic copy of your health record is far superior to a paper copy in your filing cabinet. Online bill payments are far superior to mailing a check. Electronic intake forms are far superior to getting to the office 15 minutes early to fill out the same information you filled out the last time. The list goes on, but the message is the same: Use the portal to help eliminate the resistance to technological change.